Special Features of KISEN-100, Automatic Fire Extinguishing Apparatus for Commercial Kitchen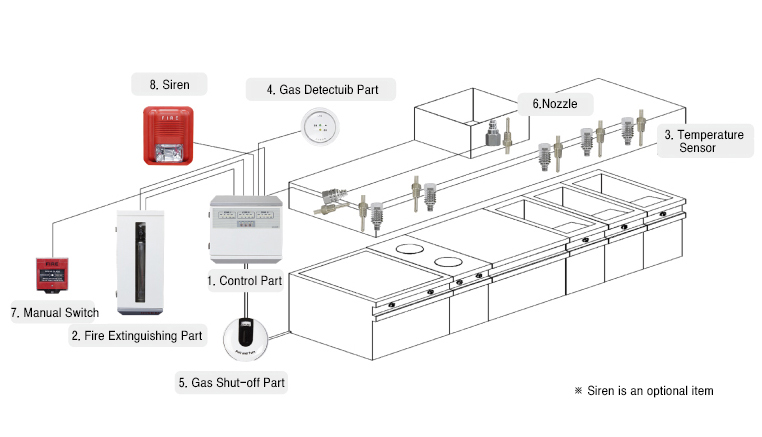 · 3 Zones can be controlled with one control part.
· One zone consists of 1 nozzle and 1 temperature sensor as a basic package. Maximum 5 nozzles and 6 temperature sensors may be installed. 1 fire extinguisher is installed in 1 zone.
· one-touch type piping is used for connecting the fire extinguisher to the nozzle. The length of the piping can be from minimum 5m to maximum 30m.
· As additional functions, an alarm function is reinforced by adopting outside siren, and link with other devices is available through contact point signal.



Operating Principle of KISEN-100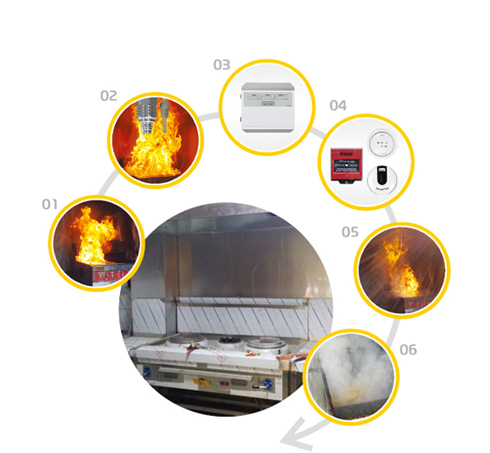 Outbreak of Fire

Sense the set temperature for fire or operate the manual switch

Fire signal is transmitted to control part

Each function starts working Duct damper works → Gas shut off device works → Motor head of fire extinguisher works

Fire extinguishing chemical sprayed → Fire extinguisging starts

Omnidirectional fire fighting by the soray nozzle at each position inside/outside of cooking facility
· Most of fires in modern restaurants grow larger as many high temperature fire facilities and inflammables such as cooking oil are used there. And as many people go in and out of the reataurants, a fire is likely to result in loss of life.
· Recently, if a big fire breaks in a reataurant, which leads to damages, the restaurant suffers secondary intangible damage such as falling of its image as well as direct loss due to suspension of business. So our perception of fire safety need to be changed.
· In America and Europe, reataurants have adopted commercial automatic fire fighting system in the kitchen since long time ago, and have got practical effects.
· We need to detect anf extinguish fires at the early stage of outbreak. Kisen-100 may minimize tangible and intangible property losses by providing customers with the fire fighting equipment optimized to their facilities.


KISEN-100 installation pictures (example)