Components and Specifications of Automatic Diffusion Fire Extinguishing Equipment

| Type No. | Diffusion 13-1 72℃ |
| --- | --- |
| Chemical Weight | 3kg 10seconds |
| Charging Pressure | 7~9.8kg/㎠ 4.58kg |
| Operating Temperature Range | -20~40℃ |
| Nominal Protection Space | 1㎡ |
| Type of Fire Extinguishing Performance | for general fire and for fire on electric equipment |
· Laundry, Drying Room
· Boiler Room and Kitchen of Apartment and / or House
· Kitchen, Machinery Room, and Guest Room of Motel or Hotel
· Working Room, Substation Room, Machinery Room, and Warehouse of Factory
· Guest Room and Machinery Room of Fishing Boat and / or Ship
· Various kinds of Oil Distributro and / so Storage
· In case of fire, it automatically starts working to extinguish the fire by detecting the heat of 72℃
· No any specific construction to equip is required and it is very easy to install.
· By the pressure indication guage, working (pressure within the instrument) status can be confirmed by the naked eyes.
· The powder charged are not harmful for human being and domestic animal, Even though it is stained to machine, furniture, clothes, and so on, it can be simply cleaned and removed.(The chief ingredients of the powder : NH₄,H₂,PO₄)
· The chief ingredients of the powder N₂(Nitrogen), it does not get solidified.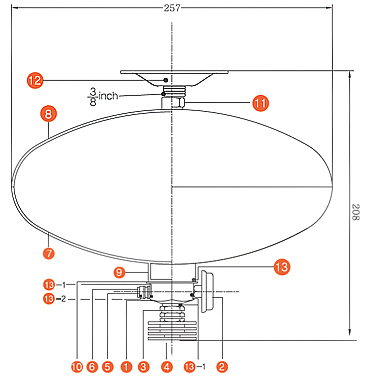 Valve

Gauge

Nozzle

Heatproof Plate

Gas Inlet

Gas Inlet Plug

Top Plate of Container

Bottom Plate of Container

Neck

Neck O-ring washer

Container Fastening Nut

Ceiling Installation Bracket

O-ring

-1 O-ring

-2 O-ring
How to install and Cautions
· Fix the ceiling installation bracket vertically onto the ceiling tightly and put in the body by turning it clockwise
· Attach the pressure gauge after checking whether the needle is at the normal position.
· It is necessary to check whether the pressure gauge needle is at the normal position at least once a month.
· If the pressure gauge needle is at a wrong position or if you have any problem in installation, please contact with a selling store or our head office